Style and Colour: Blond Trappist triple beer.
Taste: Predominantly herbal and earthy but, it is enlivened by carbonated pearls, ensuring a lively character overall. The finish is long, dry and pleasantly bitter.
Alcohol: 9.5 % ABV
Drinking Temperature: 10 - 12° C
Fermentation: Westmalle Tripel is a high fermentation beer with in-bottle re-fermentation.
Ingredients: Water, barley malts, hops, sugar, yeast.
The Brewery: The brewing of beer for the monks' own use commenced in 1856 in Abbay Westmalle. In 1933 the 'Trappistenbier' name was trademarked. Only beers made by monks in an Abbaye can take the name "Trappist".
Origin: The Westmalle Tripel is generally recognised as the 'mother of all tripels'. This type of beer was brewed for the first time here in Westmalle, when the new brewing hall was inaugurated in 1934.
Food: A stew made with this Trappist beer could really be a classic from Grandma's kitchen.
Keeping and Storage: The beer will keep for 2 years in the bottle, if well stored.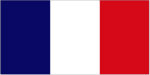 Style et couleur: Blonde Trappiste triple.
Goût: Essentiellement à base de plantes, elle est agréablement gazeuse, ce qui lui confère un caractère très vivant. L'arrière-bouche est longue, sèche et agréablement amère.
Alcool: 9.5% ABV
Température de consommation: 10 - 12° C
Fermentation: Westmalle Tripel est une bière de haute fermentation avec refermentation en bouteille.
Ingrédients: Eau, malt d'orge, houblon, sucre, levure.
La Brasserie: Le brassage de la bière pour l'usage propre des moines a commencé en 1856 à l'Abbaye de Westmalle. En 1933, le nom 'Trappiste' a été déposé. Seules les bières fabriquées par des moines dans une abbaye peuvent porter le nom de "trappiste".
Origine: Le Triple de Westmalle est généralement reconnue comme la " mère de toutes les triples ". Ce type de bière a été brassé pour la première fois à Westmalle, lors de l'inauguration de la nouvelle salle de brassage en 1934.
Cuisine: Un ragoût fait avec cette bière trappiste pourrait vraiment être un classique de la cuisine de grand-mère.
Conservation et stockage: La bière se conservera 2 ans dans la bouteille, bien stockée.
Stil und Farbe: Blondes Trappisten-Dreifachbier.
Geschmack: Überwiegend pflanzlich und erdig, aber mit kohlensäurehaltigen Perlen belebt, was insgesamt für einen lebendigen Charakter sorgt. Der Abgang ist lang, trocken und angenehm bitter.
Alkohol: 9.5% ABV
Trinktemperatur: 10 - 12° C
Gärung: Westmalle Tripel ist ein hochgäriges Bier mit Nachgärung in der Flasche.
Zutaten: Wasser, Gerstenmalz, Hopfen, Zucker, Hefe.
Die Brauerei: Das Brauen von Bier für den Eigenbedarf der Mönche begann 1856 in Abbay Westmalle. 1933 wurde der Name "Trappistenbier" geschützt. Nur Biere, die von Mönchen in einer Abtei hergestellt werden, dürfen den Namen "Trappist" tragen.
Ursprung: Der Westmalle Tripel gilt allgemein als die "Mutter aller Tripel". Diese Biersorte wurde hier in Westmalle zum ersten Mal gebraut, als 1934 die neue Brauereihalle eingeweiht wurde.
Essen: Ein Eintopf aus diesem Trappistenbier könnte wirklich ein Klassiker aus Großmutters Küche sein.
Aufbewahrung und Lagerung: Das Bier bleibt 2 Jahre in der Flasche, wenn es gut gelagert wird.