Style and Colour: Belgian Blond Trappist (Tripel)
Taste: It has a mainly dry character, enhanced by fruitiness that brings to mind memories of a fine dry white wine, with touches of citrus and floral herbs.
Alcohol: 8 % ABV
Drinking Temperature: 6 - 8° C
Fermentation: High fermentation beer that re-ferments in the bottle.
Ingredients: Water of the Abbay's well, barley malt, wheat, sugar, hops (Galena), bitter orange peel and Chimay house yeast.
The Brewery: The brewing of beer for the monks' own use commenced in 1862 in Abbay Scourmont in Chimay. In 1933 the 'Trappistenbier' name was trademarked. Only beers made by monks in an Abbaye can take the name "Trappist".
Origin: The Chimay Triple, is the brewery's most recent creation, in 1966. The 500th anniversary of the town of Chimay – celebrated in 1986 – provided the start of the Tripel in a 75cl format,
labelled "Cinq Cents".
Food: It pairs wonderfully with cod, mussels, skate or 'coquilles St Jacques', accompanied by a sauce containing shrimps or capers.
Keeping and Storage: The beer will keep for 3 years in the bottle, if well stored.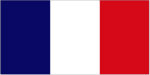 Style et couleur: Bière trappiste blonde (triple)
Goût: Sec, fruité, qui rappelle un vin blanc sec et fin, avec des notes d'agrumes et d'herbes florales.
Alcool: 8% ABV
Température de consommation: 6 - 8° C
Fermentation: Bière de haute fermentation qui refermente en bouteille.
Ingrédients: Eau des puits de l'abbaye, malt d'orge, blé, sucre, houblon (Galena), écorce d'orange amère et levure Chimay maison.
La Brasserie: Le brassage de la bière pour l'usage personnel des moines a commencé en 1862 à l'abbaye Scourmont à Chimay. En 1933, le nom'Trappistenbier' a été déposé. Seules les bières fabriquées par des moines dans une abbaye peuvent porter le nom de "trappiste".
Origine: La Chimay Triple, est la création la plus récente de la brasserie, en 1966. Le 500ème anniversaire de la ville de Chimay - célébré en 1986 - a marqué le début de la Triple dans un format 75cl, étiqueté "Cinq Cents".
Cuisine: Elle se marie à merveille avec le cabillaud, les moules, la raie ou les coquilles St Jacques, accompagnés d'une sauce aux crevettes ou aux câpres.
Conservation et stockage: La bière se conservera au moins 3 ans en bouteille, si elle est bien stockée.
Stil und Farbe: Belgischer blonder Trappist (Tripel)
Geschmack: Er hat einen überwiegend trockenen Charakter, verstärkt durch Fruchtigkeit, die an einen feinen, trockenen Weißwein mit Noten von Zitrusfrüchten und blumigen Kräutern erinnert.
Alkohol: 8% ABV
Trinktemperatur: 6 - 8° C
Gärung: Hochgäriges Bier, das in der Flasche nachgärt.
Zutaten: Wasser aus den eigenen Brunnen der Abtei, Gerstenmalz, Weizen, Zucker, Hopfen (Galena), Bitterorangenschale sowie Chimay's eigene unverwechselbare Hefe.
Die Brauerei: Das Brauen von Bier für den Eigenbedarf der Mönche begann 1862 in Abbay Scourmont in Chimay. 1933 wurde der Name "Trappistenbier" geschützt. Nur Biere, die von Mönchen in einer Abtei hergestellt werden, dürfen den Namen "Trappist" tragen.
Ursprung: Der Chimay Triple ist die jüngste Kreation der Brauerei im Jahr 1966. Das 500-jährige Jubiläum der Stadt Chimay - 1986 gefeiert - war der Auftakt des Tripel im 75cl-Format, mit der Bezeichnung "Cinq Cents".
Essen: Er passt hervorragend zu Kabeljau, Muscheln, Schlittschuhen oder "Coquilles St. Jacques", begleitet von einer Sauce mit Garnelen oder Kapern.
Aufbewahrung und Lagerung: Das Bier bleibt bei guter Lagerung mindestens 3 Jahre in der Flasche.