Style and Colour: IPA amber beer
Taste: The bitterness of an American IPA but balanced with the fruitiness of a Belgian Triple

Alcohol: 9 % ABV
Drinking Temperature: 4 - 6° C
Fermentation: Dry hopping: they add hops during fermentation.
Ingredients: Water, yeast, malts and American Simcoe or Galaxy hops.
The Brewery: The Musketeers brewery was founded in Ursel (between Bruges and Gand) in 2000 by 4 brew-engineers, after being graduated from KaHo St. Lieven in Gent, the best known brewing school of Flanders. Like the real French Musketeers of the 18th century, the 4 friends bundled their enthusiasm and efforts, and created the Musketeers brewing company.
Origin: After many brainstorming sessions, while drinking their new beer, the 4 Musketeers settled on TROUBADOUR. The troubadours of the medieval times were young men wandering from village to village, bringing with them joy, music, traditions, poetry, history and legends of other places.
Food: Ideal as an aperitif or with spicy meals.
Keeping and Storage: The beer will keep for at least 2 years in the bottle, if well stored.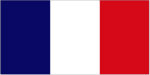 Style et couleur: Bière ambrée IPA
Goût: L'amertume d'une IPA américaine mais équilibrée par le fruité d'une Triple belge
Alcool: 9 % ABV
Température de consommation: 4 - 6° C
Fermentation: Le houblonnage à froid : ils ajoutent le houblon pendant la fermentation.
Ingrédients: Eau, levure, malt et houblon américain de Simcoe ou de Galaxy.
La Brasserie: La brasserie Musketeers a été fondée à Ursel (entre Bruges et Gand) en 2000 par 4 brasseurs, après avoir été diplômés de la KaHo St. Lieven à Gand, l'école de brassage la plus connue de Flandre. Comme les vrais mousquetaires français du 18ème siècle, les 4 amis ont mis en commun leur enthousiasme et leurs efforts pour créer la brasserie Musketeers.
Origine: Après de nombreuses séances de brainstorming, tout en buvant leur nouvelle bière, les 4 mousquetaires se sont décidés pour TROUBADOUR. Les troubadours de l'époque médiévale étaient de jeunes hommes errant de village en village, apportant avec eux joie, musique, traditions, poésie, histoire et légendes d'autres lieux.
Cuisine: Idéal à l'apéritif ou en accompagnement de plats épicés.
Conservation et stockage: La bière se conservera au moins 2 ans en bouteille, si elle est bien stockée.
Stil und Farbe: IPA Bernsteinbier
Geschmack: Die Bitterkeit eines amerikanischen IPA, aber ausgeglichen mit der Fruchtigkeit eines belgischen Triple.
Alkohol: 9 % ABV
Trinktemperatur: 4 - 6° C
Gärung: Trockenhopping: Sie geben während der Gärung Hopfen hinzu.
Zutaten: Wasser, Hefe, Malz und American Simcoe oder Galaxy Hopfen.
Die Brauerei: Die Musketier-Brauerei wurde im Jahr 2000 von 4 Brauingenieuren in Ursel (zwischen Brügge und Gand) gegründet, nachdem sie ihr Studium an der KaHo St. Lieven in Gent, der bekanntesten Brauschule Flanderns, abgeschlossen hatte. Wie die echten französischen Musketiere des 18. Jahrhunderts bündelten die vier Freunde ihre Begeisterung und Bemühungen und gründeten die Musketiere Brauerei.
Ursprung: Nach vielen Brainstorming-Sitzungen, während sie ihr neues Bier tranken, entschieden sich die 4 Musketiere für TROUBADOUR. Die Troubadouren des Mittelalters waren junge Männer, die von Dorf zu Dorf wanderten und Freude, Musik, Traditionen, Poesie, Geschichte und Legenden anderer Orte mitbrachten.
Essen: Ideal als Aperitif oder zu würzigen Speisen.
Aufbewahrung und Lagerung: Das Bier bleibt bei guter Lagerung mindestens 2 Jahre in der Flasche.
one of the first triple I ever tried... balanced, strong, fresh... I'll never get enough of it! :-)