Style and Colour: Classic season amber Belgian beer. Farmhouse ale that was traditionally brewed in the winter, to be consumed throughout the summer months.
Taste: Semi-dry malt character, with fresh hoppiness, abundant yeasty and fruity flavors.
Alcohol: 8 % ABV
Drinking Temperature: 8 - 10 °C
Fermentation: High fermentation and fermentation in the bottle .
Ingredients: 2 different malts, hops, yeast, water and cristal white sugar.
The Brewery: The Brasserie Blaugies is located in Blaugies,which means "blue water source", in Hainaut, Belgium. Founded in 1988 by the descendants of the local bandit A.J.Moneuse.
Origin: A. J. Moneuse (1768) was a famous local bandit and gang leader, ancestor of the brewers' family.
Food: Particularly good with meals containing garlic.
Keeping and Storage: The beer will keep for 3 years in the bottle.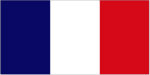 Style et couleur: Bière belge ambrée de saison classique. La bière de ferme qui était traditionnellement brassée en hiver, à consommer pendant les mois d'été.
Goût: Caractère malt mi-sec, avec un houblon frais, une abondance de levure et des arômes fruités.
Alcool: 8% ABV
Température de consommation: 8 - 10 ° C
Fermentation: Haute fermentation et fermentation en bouteille.
Ingrédients: 2 malts différents, houblon, levure, eau et sucre blanc cristal.
La Brasserie: La Brasserie Blaugies est située à Blaugies, qui signifie «source d'eau bleue», dans le Hainaut, en Belgique. Fondée en 1988 par les descendants du bandit local A.J.Moneuse.
Origine: A. J. Moneuse (1768) était un célèbre bandit local et chef de gang, ancêtre de la famille des brasseurs.
Cuisine: Particulièrement bonne avec les plats contenant de l'ail.
Conservation et stockage: La bière se conservera 3 ans dans la bouteille.
Stil und Farbe: Klassisches Belgisches Bernstein Bier. Bauernbier, das traditionell im Winter gebraut wurde und während der Sommermonate konsumiert wurde.
Geschmack: Halbtrockener Malzcharakter, mit frischer Hopfigkeit, reichlich hefigen und fruchtigen Aromen.
Alkohol: 8% ABV
Trinktemperatur: 8 - 10 ° C
Gärung: Hochvergärung und Gärung in der Flasche.
Zutaten: 2 verschiedene Malze, Hopfen, Hefe, Wasser und weißer Kristallzucker.
Die Brauerei: Die Brasserie Blaugies befindet sich in Blaugies, was "blaue Wasserquelle" bedeutet, im Hennegau, Belgien. 1988 von den Nachfahren des lokalen Banditen A.J.Moneuse gegründet.
Ursprung: A. J. Moneuse (1768) war ein bekannter lokaler Bandit und Bandenchef, Vorfahre der Brauerfamilie.
Essen: Besonders gut zu knoblauchhaltigen Gerichten.
Aufbewahrung und Lagerung: Das Bier bleibt 3 Jahre in der Flasche.
Loved it. Smooth, warm, delicate beer

A very pleasant and warm beer, with a lot of yeast deposits that make it very cloudy. To date, one of my favorite beers. I drank it with a form of vacherin mont d'or baked in the oven and used as a fondue caquelon.

I have been searching for this de Blauges treasure for some time and it was worth the wait. Great depth of flavor

Trotz des hohen Gehalts ist der Alkohol gut eingebunden