Style and Colour: Season Farmhouse Belgian ale with American hops (Amarillo)
Taste: Toasty wheat aroma with prickly carbonation and hops appearing the periphery.
Alcohol: 6 % ABV
Drinking Temperature: 8 - 10 °C
Fermentation: High fermentation.
Ingredients: Water, barley, wheat, spelt, Amarillo hops, yeast.
The Brewery: The Brasserie Blaugies is located in Blaugies,which means "blue water source", in Hainaut, Belgium. Founded in 1988 by the descendants of the local bandit A.J.Moneuse.
Origin: The Hill Farmstead brewers situated in Greensboro Bend, in Vermont, traveled from the US to Brasserie de Blaugies to share expertise and collaborate on brewing this Vermontoise with American hops Amarillo.
Food: Excellent with grilled beef, grilled lamb, blue cheese, very sweet desserts, cheesecake or crème brulée.
Keeping and Storage: The beer will keep for 3 years in the bottle.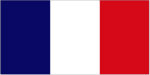 Style et couleur: Saison, bière belge de ferme avec houblon américain (Amarillo)
Goût: Arôme de blé grillé avec une carbonatation délicate et un goût de houblon apparaissant à la périphérie.
Alcool: 6% ABV
Température de consommation: 8 - 10 ° C
Fermentation: Haute fermentation.
Ingrédients: Eau, orge, blé, épeautre, houblon Amarillo, levure.
La Brasserie: La Brasserie Blaugies est située à Blaugies, qui signifie «source d'eau bleue», dans le Hainaut, en Belgique. Fondée en 1988 par les descendants du bandit local A.J.Moneuse.
Origine: Les brasseurs Hill Farmstead situés à Greensboro Bend, dans le Vermont, ont voyagé des États-Unis à la Brasserie de Blaugies pour partager leur expertise et collaborer à la préparation de cette Vermontoise avec le houblon américain Amarillo.
Cuisine: Excellente avec le bœuf grillé, l'agneau grillé, le fromage bleu, les desserts très sucrés comme le cheese cake ou la crème brulée.
Conservation et stockage: La bière se conservera 3 ans dans la bouteille.
Stil und Farbe: Bauernbier mit amerikanischem Hopfen (Amarillo)
Geschmack: Gegrilltes Weizenaroma mit dorniger Kohlensäure und Hopfen an der Peripherie, saftig und orange.
Alkohol: 6% ABV
Trinktemperatur: 8 - 10 ° C
Gärung: Hochvergärung.
Zutaten: Wasser, Gerste, Weizen, Dinkel, Amarillo Hopfen, Hefe.
Die Brauerei: Die Brasserie Blaugies befindet sich in Blaugies, was "blaue Wasserquelle" bedeutet, im Hennegau, Belgien. 1988 von den Nachfahren des lokalen Banditen A.J.Moneuse gegründet.
Ursprung: Brewers Hill Farmstead vom Greensboro Bend, Vermont, reiste zu dem Brasserie de Blaugies Know-how zu teilen und gemeinsam in der Vorbereitung dieses Vermontoise mit amerikanischen Hopfen Amarillo.
Essen: hervorragend zu gegrilltem Rindfleisch, gegrilltem Lamm, Blauschimmelkäse, sehr süßen Desserts, Käsekuchen oder Crème Brulée.
Aufbewahrung und Lagerung: Das Bier bleibt 3 Jahre in der Flasche.
Good beer, not my preferred one

Golden color, fresh aroma, fruity & citrus with some spicy notes. On the palate, fruity and citrus notes aroma . Drinkable and refreshing, slight acid, then bitter.

Solides Bier. Geschmack typisch Farmhouse. Sehr süffig. Reichhaltig an Kohlesäure. Lässt sich dadurch sogar noch HERVORRAGEND einen Tag später trinken

Drinking this beer the fresh cut grassy flavors hit you. Then you get a touch of funk and richness. I would not drink it alone and share with a good friend.