Style and Colour: Triple blond Abbey beer.
Taste: Lightness and freshness of the wheat, combined with the creaminess of oats and herbal, and lemony dryness of quinine.

Alcohol: 8.4 % ABV
Drinking Temperature: 6 - 7 °C
Fermentation: Top-fermentation. Re-fermented in the bottle.
Ingredients: Mineral water, home-cultured yeast, wheat, oats, barley and hops.
The Brewery: De Bosteels brewery is in Buggenhout in Flanders in Belgium. Founded in the 18th century by Evarist Bosteels.
Origin: Tripel Karmeliet is still brewed to an authentic beer recipe from 1679 originating in the former Carmelite monastery in Dendermonde. Written over 300 years ago, this recipe describes the use of three kinds of grain: wheat, oats and barley.
Food: It's a perfect pairing with mussels, and can be used for cooking them.
Keeping and Storage: The beer will keep for 2 years in the bottle, if well stored.
World Beer Awards: World best Ale in 2008 and silver medal in 2019.
1.05 CHF/dl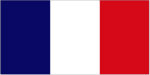 Style et couleur: Bière blonde triple d'Abbaye.
Goût: Légèreté et fraîcheur du blé, associées à l'onctuosité de l'avoine et des herbes, et à la sécheresse citronnée de la quinine.
Alcool: 8.4% ABV
Température de dégustation: 6 - 7 ° C
Fermentation: Haute fermentation. Refermenté en bouteille.
Ingrédients: Eau minérale, levure de culture maison, blé, avoine, orge et houblon.
La brasserie: La brasserie De Bosteels est située à Buggenhout en Flandre, en Belgique. Fondée au 18ème siècle par Evarist Bosteels.
Origine: La Tripel Karmeliet est toujours brassée selon une authentique recette de bière de 1679 provenant de l'ancien monastère carmélite de Dendermonde. Écrite il y a plus de 300 ans, cette recette décrit l'utilisation de trois types de céréales : blé, avoine et orge.
Cuisine: C'est un accord parfait avec les moules, et peut être utilisée pour les cuire.
Conservation et stockage : La bière se conservera 2 ans en bouteille, si elle est bien conservée.
World Beer Awards : Meilleure bière blonde du monde en 2008 et médaille d'argent en 2019.
1.05 CHF/dl
Stil und Farbe: Abtei Dreifach blondes Bier.
Geschmack: Leichtigkeit und Frische des Weizens, kombiniert mit der Cremigkeit von Hafer und Kräutern, und Zitronentrockenheit von Chinin.
Alkohol: 8.4% ABV
Trinktemperatur: 6 - 7 ° C
Gärung: Oberste Gärung. Nachgärung in der Flasche.
Zutaten: Mineralwasser, hausgemachte Hefe, Weizen, Hafer, Gerste und Hopfen.
Die Brauerei: Die Brauerei De Bosteels befindet sich in Buggenhout in Flandern in Belgien. Gegründet im 18. Jahrhundert von Evarist Bosteels.
Ursprung: Tripel Karmeliet wird noch heute nach einem authentischen Bierrezept von 1679 aus dem ehemaligen Karmeliterkloster in Dendermonde gebraut. Dieses Rezept, das vor über 300 Jahren geschrieben wurde, beschreibt die Verwendung von drei Getreidesorten: Weizen, Hafer und Gerste.
Essen: Es ist eine perfekte Kombination mit Muscheln und kann zum Kochen verwendet werden.
Aufbewahrung und Lagerung: Das Bier bleibt bei guter Lagerung 2 Jahre in der Flasche.
World Beer Awards: Das weltbeste blonde Bier im Jahr 2008 und Silbermedaille 2019.
1.05 CHF/dl
Strong taste, strong character.