Style and Colour: Belgian Tripel Ale.
Taste: Fruity and herbaceous flavours with a pleasant bitterness at the end.
Alcohol: 8.5 % ABV
Drinking Temperature: 4 - 6 ° C
Fermentation: High fermentation.
Ingredients: Water, barley, malt, wheat, hops, yeast (all organic ingredients).
The Brewery: Brasserie Lupulus, founded in 2006 by Pierre Gobron (Founder of the Achouffe brewery), in Gouvy in a 19th century farm in the Belgian Ardennes, following the takeover of Achouffe by the Moortgat-Duvel group.
Origin: The Latin name for hops is HUMULUS LUPULUS, which literally means "SMALL HUMBLE WOLF". Wolves used to populate the quiet and rough areas of this beautiful Ardennes: these hordes came from Slovenia, where the best hops in the world are grown.
Food: Excellent as an aperitif. Delicious with fish and white meat dishes.
Keeping and Storage: The beer will keep for 2 years in the bottle.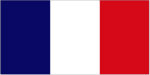 Style et couleur: Bière blonde triple belge.
Goût: Des saveurs fruitées et herbacées avec une agréable amertume en fin de dégustation.
Alcool: 8.5% ABV
Température de consommation: 4 - 6° C
Fermentation: Haute fermentation.
Ingrédients: Eau, orge, malt, blé, houblon, levure (ingrédients bio).
La Brasserie: Brasserie Lupulus, fondée en 2006 par Pierre Gobron (Fondateur de la brasserie Achouffe), à Gouvy dans une ferme du 19ème siècle dans les Ardennes belges, suite au rachat d'Achouffe par le groupe Moortgat-Duvel.
Origine: Le nom latin du houblon est HUMULUS LUPULUS, qui littéralement signifie "PETIT LOUP HUMBLE". Les Loups peuplaient les espaces tranquilles et rudes de cette belle Ardenne: ces hordes venaient de Slovénie, contrée où les meilleurs houblons du monde voient le jour.
Cuisine: Excellent en apéritif. Délicieuse avec des plats de poisson et de viande blanche.
Conservation et stockage: La bière se conservera 2 ans dans la bouteille.
Stil und Farbe: Belgisches Triple Pale Ale.
Geschmack: Fruchtige und kräuterartige Aromen mit einer angenehmen Bitterkeit am Ende.
Alkohol: 8.5% ABV
Trinktemperatur: 4 - 6° C
Gärung: Hochvergärung.
Zutaten: Wasser, Gerste, Malz, Weizen, Hopfen, Hefe (organische Zutaten).
Die Brauerei: Brauerei Lupulus, die 2006 von Pierre Gobron (Gründer der Brauerei Achouffe) in Gouvy in einem Bauernhof aus dem 19. Jahrhundert in den belgischen Ardennen nach der Übernahme von Achouffe durch die Gruppe Moortgat-Duvel gegründet wurde.
Ursprung: Der lateinische Name für Hopfen ist HUMULUS LUPULUS, was wörtlich "KLEINES HUMBELRAD" bedeutet. Früher bevölkerten Wölfe die ruhigen und rauen Gebiete dieser schönen Ardennen: Diese Horden kamen aus Slowenien, wo der beste Hopfen der Welt angebaut wird.
Essen: Ausgezeichnet als Aperitif. Köstlich zu Fisch und weißem Fleisch.
Aufbewahrung und Lagerung: Das Bier bleibt 2 Jahre in der Flasche.
Good taste, maybe too bitter for me

At the very end, this beer felt way too much bitter, and I was expecting it to be more smooth. Good beer, not my best