Style and Colour: Triple Blonde Beer
Taste: Very round taste with some floral and citrus notes and a slight sweetness.
Alcohol: 10.5 % ABV
Drinking Temperature: 8 - 10° C
Fermentation: High fermentation
Ingredients: Water drawn from the brewery's well, malt, hops, natural sugar and in-house yeast secretly preserved for 65 years.
The Brewery: Brasserie Dubuisson. Located in Pipaix, close to Tournai, in Belgium. Founded in 1769. It is one of the oldest Brewery in Wallonia.Their Bush beers names are simply the translation in English of their family French name Dubuisson. Their recipes have been unchanged for 80 years. They cultivate their own hops fields next to the brewery. They only use the water drawn from the brewery's well, below the brewery, which contributes to the specific character of the Bush beers.
Origin: Created in 1933 with the name BUSH BEER, the English translation for "bière Dubuisson".
Food: Goes well with fish, shellfish, poultry and creamy cheeses. Excellent with cheese fondue.
Keeping and Storage: It can be stored for 2 years.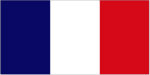 Style et couleur: Bière blonde triple
Goût: Goût très rond avec quelques notes florales et d'agrumes ainsi qu'une légère sucrosité.
Alcool: 10.5% ABV
Température de consommation: 8 - 10° C
Fermentation: Bière de fermentation haute
Ingrédients: Eau extraite du puits de la brasserie, malt, houblon, sucre naturel et levure maison secrètement conservée pendant 65 ans.
La Brasserie: Brasserie Dubuisson. Située à Pipaix, près de Tournai, en Belgique. Fondée en 1769. C'est l'une des plus anciennes Brasserie de Wallonie. Le noms de leurs bières Bush est simplement la traduction en anglais de leur nom de famille Dubuisson. Leurs recettes sont inchangées depuis 80 ans. Ils cultivent leurs propres champs de houblon à côté de la brasserie. Ils utilisent uniquement l'eau tirée du puits de la brasserie, en dessous de la brasserie, ce qui contribue au caractère spécifique des bières Bush.
Origine: Créée en 1933 sous le nom de BUSH BEER, la traduction anglaise de "bière Dubuisson".
Cuisine: Se marie bien avec les poissons, crustacés, volaille et fromages crémeux. Excellente avec la fondue au fromage.
Conservation et stockage: Elle peut être stockée pendant 2 ans.
Stil und Farbe: Helles Triple-Bier

Geschmack: Sehr runder Geschmack mit einigen blumigen Noten und Zitrusfrüchten sowie einer leichten Süße.
Alkohol: 10.5% ABV

Trinktemperatur: 8 - 10° C
Gärung: Hochgäriges Bier
Zutaten: Aus dem Brauhaus gewonnenes Wasser, Malz, Hopfen, natürlicher Zucker und hausgemachte Hefe, 65 Jahre lang heimlich konserviert.
Die Brauerei: Brasserie Dubuisson. Liegt in Pipaix, in der Nähe von Tournai in Belgien. Gegründet im Jahre 1769. Es ist eine der ältesten Brauereien in Wallonien. Ihre Bush Biere Namen sind einfach die Übersetzung in Englisch ihrer Familie Name Dubuisson. Ihre Rezepte sind seit 80 Jahren unverändert. Sie bewirtschaften ihre eigenen Hopfenfelder neben der Brauerei. Sie verwenden nur das Wasser, das aus dem Brunnen der Brauerei unterhalb der Brauerei stammt, was zum spezifischen Charakter der Bush-Biere beiträgt.
Ursprung: Im Jahr 1933 unter dem Namen BUSH BEER, die englische Übersetzung von "Dubuisson Bier" erstellt.
Essen: Passt gut zu Fisch, Schalentieren, Geflügel und cremigen Käsesorten. Hervorragend zu Käsefondue.
Aufbewahrung und Lagerung: Es kann 2 Jahre gelagert werden.