Style and Colour: White beer.
Taste: Smooth and light, discreetly sweet and sour, it reveals a subtle hint of spicy citrus, and aromas borrowed from orange peel and spices. Unique in its kind.
Alcohol: 4.9 % ABV
Drinking Temperature: 4 - 6 °C
Fermentation: High fermentation.
Ingredients: Water, wheat, pale malt, hops, coriander, orange peel, sugar, yeast.
The Brewery: The Hoegaarden Brewery is a brewery located in the municipality of Hoegaarden in the province of Flemish Brabant in Belgium. It is the most important Belgian brewery producing white beers. Formerly known as Brasserie De Kluis, the company is now part of the AB InBev brewery group.
Food: Very refreshing as an aperitif. It goes well with pork, white fish or poultry, soft cheese or creamy desserts.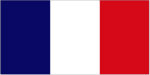 Style et Couleur: Bière blanche.
Goût: Onctueuse et légère, discrètement aigre-douce, elle révèle une pointe subtile d'agrumes épicés, et des arômes empruntés aux écorces d'oranges et aux épices. Unique en son genre.
Alcool: 4.9% ABV
Température de dégustation: 4 - 6 ° C
Fermentation: Haute fermentation.
Ingrédients: Eau, froment, malt pâle, houblon, coriandre, écorce d'orange, sucre, levure.
La Brasserie: La Brasserie Hoegaarden est une brasserie située dans la commune de Hoegaarden en province du Brabant flamand en Belgique. Elle est la plus importante brasserie belge produisant des bières blanches. Anciennement appelée Brasserie De Kluis, l'entreprise fait désormais partie du groupe brassicole AB InBev.
Cuisine: Très désaltérante en apéritif. Elle accompagne bien le porc, le poisson blanc ou la volaille, les fromages à pâte molle ou les desserts crémeux.
Stil und Farbe: Weißbier.
Geschmack: Geschmeidig und leicht, dezent süß und sauer, zeigt er einen subtilen Hauch von würzigen Zitrusfrüchten und Aromen von Orangenschalen und Gewürzen. Einzigartig in seiner Art.
Alkohol: 4.9% ABV
Trinktemperatur: 4 - 6 ° C
Gärung: Hohe Gärung.
Zutaten: Wasser, Weizen, helles Malz, Hopfen, Koriander, Orangenschalen, Zucker, Hefe.
Die Brauerei: Die Brauerei Hoegaarden ist eine Brauerei in der Gemeinde Hoegaarden in der Provinz Flämisch-Brabant in Belgien. Sie ist die wichtigste belgische Brauerei für Weißbiere. Das Unternehmen, das früher unter dem Namen Brasserie De Kluis bekannt war, ist heute Teil der AB InBev-Brauereigruppe.
Essen:Sehr durstlöschend als Aperitif. Er passt gut zu Schweinefleisch, weißem Fisch oder Geflügel, Weichkäse oder cremigen Desserts.