Style and Colour: White light beer.
Taste:Coriander and orange peel added during wort boiling lend a slight but unobtrusive spiced nose.
Alcohol: 4.5 % ABV
Drinking Temperature: 4 - 6 °C
Fermentation: Brewed using 40% soft wheat. The natural spice aromas of coriander and bitter orange peels are added during the brewing process. The brewing method, which includes infusion, is very slow. The beer, which is not filtered, is bottled and refermented with yeast and brewing sugar.
Ingredients: Water, malted barley, wheat (40%), coriander, bitter orange peel, sugar, hops, yeast.
The Brewery: The Lefebvre Brewery is located in Quenast, South of Brussels. Founded in 1876 by Jules Joseph Lefebvre.
Food: It goes well with pork, white fish or poultry, soft cheese or creamy desserts.
World Beer Awards: Best Belgian White beer in 2016.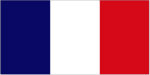 Style et Couleur: Bière blanche légère.
Goût: La coriandre et l'écorce d'orange ajoutés pendant l'ébullition du moût donnent un nez légèrement épicé mais discret.
Alcool: 4.5% ABV
Température de dégustation: 4 - 6 ° C
Fermentation: Brassée avec 40% de blé tendre. Les arômes naturels d'épices de coriandre et d'écorces d'orange amère sont ajoutés pendant le processus de brassage. La méthode de brassage, qui comprend l'infusion, est très lente. La bière, qui n'est pas filtrée, est mise en bouteille et refermentée avec de la levure et du sucre de brasserie.
Ingrédients: Eau, orge malté, blé (40%), coriandre, écorce d'orange amère, sucre, houblon, levure.
La Brasserie: La Brasserie Lefebvre est située à Quenast, au sud de Bruxelles. Fondée en 1876 par Jules Joseph Lefebvre.
Cuisine: Elle accompagne bien le porc, le poisson blanc ou la volaille, les fromages à pâte molle ou les desserts crémeux.
World Beer Awards : Meilleure bière Blanche Belge en 2016.
Stil und Farbe: Weißbier.
Geschmack: Koriander und Orangenschalen, die beim Würzekochen hinzugefügt werden, verleihen eine leichte, aber unaufdringliche Gewürznase.
Alkohol: 4.5% ABV
Trinktemperatur: 4 - 6 ° C
Gärung: Gebraut aus 40% Weichweizen. Die natürlichen Gewürzaromen von Koriander und Bitterorangenschalen werden während des Brauprozesses hinzugefügt. Die Brühmethode, die auch Infusionen beinhaltet, ist sehr langsam. Das Bier, das nicht gefiltert wird, wird abgefüllt und mit Hefe und Brauzucker übergossen.
Zutaten: Wasser, gemälzte Gerste, Weizen (40%), Koriander, Bitterorangenschale, Zucker, Hopfen, Hefe.
Die Brauerei: Die Brauerei Lefebvre befindet sich in Quenast, südlich von Brüssel. Gegründet 1876 von Jules Joseph Lefebvre.
Essen: Er passt gut zu Schweinefleisch, weißem Fisch oder Geflügel, Weichkäse oder cremigen Desserts.
World Beer Awards: Bestes belgisches Weißbier 2016.
We had an appetizer and we brought this bottle on the table. Very fresh, serve chilled and we used a normal red wine glass to drink it. To keep it chilled, we also added few granit cubes that are normally used for whiskies. The beer is very refreshing and strng citrus taste.

BLANCHE DE BRUXELLES 75CL

Ok, for a white beer quite good, recommended.