Style and Colour: White beer from the Golden Islands in front of Hyères
Taste: The roundness and low bitterness enhance the citrus, ginger and coriander notes.
Alcohol: 5 % ABV
Drinking Temperature: 4 °C
Fermentation: Unfiltered, non-pasteurised, triple fermentation and dry hopping.
Ingredients: Water, Barley malt, wheat, hops, yeast, sugar, spices.
The Brewery: The Brasserie Les Îles d'Or is an artisanal brewery from Provence located in Hyères in the South of France. Founded in 2015 by Sandrine and Marcel, a couple of restaurant owners.
Origin: "Virée à Porquerolles" was the obvious name for those Hyerians who live opposite this jewel of the Mediterranean, the island of Porquerolles, part of the Golden Islands off the coast of Hyères.
Food: Particularly appreciated as an aperitif.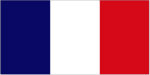 Style et Couleur: Bière blanche des îles d'or à Hyères

Goût: La rondeur et la faible amertume subliment les notes d'agrumes, de gingembre et de coriandre.
Alcool: 5 % ABV
Température de dégustation: 4 ° C
Fermentation: Non filtrée, non pasteurisée et triple fermentation.

Ingrédients: Eau, Malts d'orge, blé, houblon, levure, sucre, épices.
La Brasserie: La Brasserie des îles d'or est une brasserie artisanale de Provence située à Hyères dans le Sud de la France. Fondée en 2015 par Sandrine et Marcel, un couple de restaurateur.
Origine: "Virée à Porquerolles" a été le nom évident pour ces Hyérois qui vivent en face de ce joyaux de la Méditerranée, l'île de Porquerolles, faisant partie des îles d'or au large de Hyères.
Cuisine: Particulièrement appréciée à l'apéritif.
Stil und Farbe: Weißbier von den Goldenen Inseln vor Hyères
Geschmack: Die Rundheit und die geringe Bitterkeit verstärken die Noten von Zitrusfrüchten, Ingwer und Koriander.
Alkohol: 5 % ABV
Trinktemperatur: 4 ° C
Gärung: Ungefiltert, unpasteurisiert und dreifache Fermentation.
Zutaten: Wasser, Gerstenmalz, Weizen, Hopfen, Hefe, Zucker, Gewürze.
Die Brauerei: Die Brasserie des îles d'or ist eine handwerkliche Brauerei der Provence in Hyères in Südfrankreich. Gegründet im Jahr 2015 von Sandrine und Marcel, einem Gastronomenpaar.
Ursprung: "Virée à Porquerolles" war der naheliegende Name für die Hyerianer, die gegenüber diesem Juwel des Mittelmeers, der Insel Porquerolles, einem Teil der Goldenen Inseln vor der Küste von Hyères, leben.
Essen: Besonders geschätzt als Aperitif.