Style and Colour: Trippel Abbey blonde Belgian beer filtered with a tawny-orange colour.
Taste: Refined and powerful aroma that combines fruity liqueur-like and caramel malt fragrances with an average bitterness.
Alcohol: 7.8 % ABV
Drinking Temperature: 6 - 8° C
Fermentation: High fermentation with refermentation in the bottle.
Ingredients: Water, Barley Malt, Hops, Yeast, Sugar.
The Brewery: The Brasserie La Binchoise is located in Binche, in Belgium, famous carnaval town. Brewery founded in 1836 by André Joseph Pourbaix.
Origin: Brewed by La Binchoise, linked to the Abbey of Bonne Esperance in Belgium
Food: Best as aperitif, accompanied by small cubes of cheese.
Keeping and Storage: The beer will keep for 3 years in the bottle.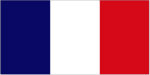 Style et couleur: Bière belge blonde Triple d'abbaye filtrée de couleur orange fauve.
Goût: Un arôme raffiné et puissant qui combine des arômes fruités de liqueur et de malt caramel avec une amertume moyenne.

Alcool: 7.8% ABV
Température de consommation: 6 - 8° C
Fermentation: Haute fermentation avec refermentation en bouteille.
Ingrédients: Eau, malt d'orge, houblon, levure, sucre.
La Brasserie: La Brasserie La Binchoise est située à Binche en Belgique, célèbre pour son carnaval. Brasserie fondée en 1836 par André Joseph Pourbaix.
Origine: Brassée par La Binchoise, selon le procédé traditionnel de l'abbaye de Bonne Esperance en Belgique
Cuisine: Idéal comme apéritif, accompagné de petits cubes de fromage.
Conservation et stockage: La bière se conservera 3 ans dans la bouteille.
Stil und Farbe: Trippel Abbey Blondes Belgisches Bier mit einer gelb-orange Farbe.
Geschmack: Raffiniertes und kraftvolles Aroma, das fruchtige Likör- und Karamellmalzdüfte mit einer durchschnittlichen Bitterkeit verbindet.
Alkohol: 7.8% ABV
Trinktemperatur: 6 - 8° C
Gärung: Hochvergärung mit Nachgärung in der Flasche.
Zutaten: Wasser, Gerstenmalz, Hopfen, Hefe, Zucker.
Die Brauerei: Die Brasserie La Binchoise befindet sich in der berühmten Karnevalsstadt Binche in Belgien. Brauerei wurde 1836 von André Joseph Pourbaix gegründet.
Ursprung: Gebraut von La Binchoise, nach dem traditionellen Verfahren der Abtei von Bonne Esperance in Belgien.
Essen: Am besten als Aperitif, begleitet von kleinen Käsewürfeln.
Aufbewahrung und Lagerung: Das Bier bleibt 3 Jahre in der Flasche.