Style and Colour: Tripel Blond Beer
Taste: Malty aromas and fruity touches of orange zest, green apples and apricots with a hint of banana.
Alcohol: 8.5 % ABV
Drinking Temperature: 6 °C
Fermentation: Top-fermented beer that re-ferments in the bottle. The unique taste of "Delirium Tremens" result from the use of three different kinds of yeast.
Ingredients: Water, three varieties of yeast, pale malt, Styrian Golding and Saaz hops.
The Brewery: De Huyghe brewery is in Melle close to Ghent in Belgium. Founded in 1654 by the family Huyghe.
Origin: On the label you will see pink elephants, crocodiles and dragons depicting the various stages of inebriation you might expect to go through after a few glasses.

Food: Ideal with stronger cheeses, such as as the blue.
Keeping and Storage: The beer will keep for 3 years in the bottle, if well stored.
World Beer Awards: Best beer in 2009 (rated exceptional 4.13/5 by Beeradvocate)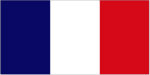 Style et couleur: Bière Tripel Blonde
Goût: Arômes maltés et touches fruitées de zeste d'orange, de pomme verte et d'abricot avec une touche de banane.
Alcool: 8.5 % ABV
Température de dégustation: 6 ° C
Fermentation: Bière de fermentation haute qui refermente en bouteille. Le goût unique des "Delirium Tremens" résulte de l'utilisation de trois sortes de levures différentes.
Ingrédients: De l'eau, trois variétés de levure, du malt pâle, du houblon Styrian Golding et du houblon Saaz.
La brasserie: La brasserie De Huyghe est située à Melle près de Gand en Belgique. Fondée en 1654 par la famille Huyghe.
Origine: Sur l'étiquette, vous verrez des éléphants roses, des crocodiles et des dragons représentant les différents stades d'ébriété que vous pouvez vous attendre à vivre après quelques verres.
Cuisine: Idéal avec des fromages plus forts, comme le bleu.
Conservation et stockage : La bière se conservera 3 ans en bouteille, si elle est bien stockée.
World Beer Awards : Meilleure bière en 2009 (note exceptionnelle de 4,13/5 selon Beeradvocate)
Stil und Farbe: Tripel Blondes Bier
Geschmack: Malzige Aromen und fruchtige Noten von Orangenschale, grünen Äpfeln und Aprikosen mit einem Hauch von Banane.
Alkohol: 8.5% ABV
Trinktemperatur: 6 ° C
Gärung: Obergäriges Bier, das in der Flasche nachgärt. Der einzigartige Geschmack von "Delirium Tremens" entsteht durch die Verwendung von drei verschiedenen Hefesorten.
Zutaten: Wasser, drei Hefesorten, helles Malz, steirisches Golding und Saazer Hopfen.
Die Brauerei: Die Brauerei De Huyghe befindet sich in Melle bei Gent in Belgien. Gegründet 1654 von der Familie Huyghe.
Ursprung: Auf dem Etikett sehen Sie rosa Elefanten, Krokodile und Drachen, die die verschiedenen Phasen des Rausches darstellen, die Sie nach ein paar Gläsern erwarten können.
Essen: Ideal zu kräftigen Käsesorten, wie z.B. dem Blauen.
Aufbewahrung und Lagerung: Das Bier bleibt bei guter Lagerung 3 Jahre in der Flasche.
World Beer Awards: Bestes Bier 2009 (bewertet von Beeradvocate als außergewöhnlich 4,13/5)